App Inventor - Stackexchange interface
For the interface I followed the the implicit OAuth 2.0 flow. Thank you Malcolm for being the sponsor of this tutorial!
The test app can list App Inventor questions on Stackoverflow and can provide some user info of the current user.
Note: This app is for demo purposes only and does not have any official Stack Exchange relationship.
Steps for the Setup
Register your application and enable Client Side OAuth flow

After registering you will get a client id and a key, just copy them into the corresponding variables in the blocks of Screen1. We do not need the client secret.

I used the following scopes in the demo app:
no_expiry - access_token's with this scope do not expire
private_info - access full history of a user's private actions on the site
Do you need help with your App Inventor project?
I can help you: for one hour I charge 25 USD.
Please contact me at info [at] puravidaapps [dot] com for details!
For questions about

App Inventor, please use the App Inventor forum. Thank you.
Screenshots
Screen1, First Run of the App
Screen2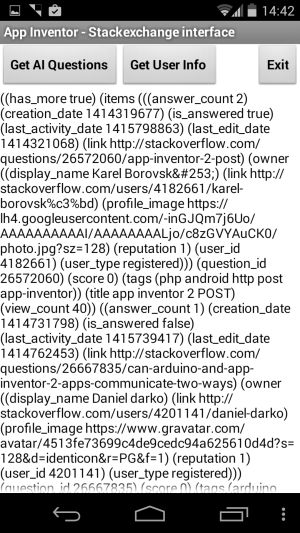 App Inventor Blocks (Screen2)
Test
Tested successfully on Nexus 5 running Android 4.4.4.


Download
You can test with the apk file, which is available for download here: Download apk file

Buy the source code for App Inventor